Show me Latest Draw for
Watch Daily Draws
Draws are held from Monday to Saturday at 1:30pm and from 9:00pm on evenings. If you've missed any of our Daily Draws just clik here for access. We understand that you may not always be available during draw times, hence the effort to bring convenience to you.
You also have an opportunity to watch our promotional events and marketing activities. It is important to us that our players and viewers alike recognizes and understands what we do to make our games exciting and attractive. We design promotional and marketing activities to encourage persons to play and at the same time reward them for their participation.
One of our latest promotion was attached to Double Daily Grand where players got chances to win hams, rum, turkeys and cash for the festive season.
Watch Daily Draws and other Media Productions on our social channels.
Winners Circle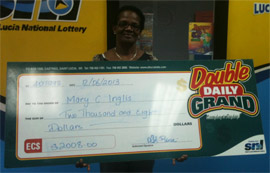 Hi there, you too can be featured in our winners circle by sending us your photo and information on the game you played and the amount you won. We would love to feature you but we can't be at all agents for all prize payouts.
Every week we will feature a few winners but for a bigger picture you can visit our Flickr account right here on the home page.
Welcome to the Saint Lucia National Lottery
Win, Win, Win…..Lots of Hams, Rums and Wines this Christmas when you play Double Daily Grand. We have been bringing you the "Must Haves" for Christmas for the past three years and you love it, well this year we have increased the amount of prizes and we have changed the rum to 'Chairman's Reserve', yes, you read right, Chairman's Reserve.
We listened to your suggestions and chose better rum plus we increased our prizes to a total of 850, that's an increase of almost two hundred. We value your opinion; continue to find ways to improve our endeavors and to give back to you our loyal customers.
The promotion runs from November 11th until December 31st. The mechanics are the same as before but allow me to highlight:
Customers who spend over $9 on Double Daily Grand will receive a voucher with a letter, for every additional $9 spent you will receive additional letter vouchers. Collect letters to spell "RUM", "HAM", and "WINE" and win as many as you wish. Hams can be collected at Wet & Cold Express on Cadet Street(behind A.F.Valmont). Rums and Wines will be distributed from SNL's retail office on Coral Street and at the Administrative office at Gable woods at Mall Sunny Acres.
Have a "Chair-ful" Christmas with SNL's "Ham", "Rum" and "Wine" promotion. Remember the more you play the more you win.
Connect with Us

Be the first to get Special Events News and Daily Winners Numbers delivered into your email address.