No Special Number?
All draw games carry a QUICK PICK option which is a random selection of numbers by the terminal.
The SNL Random Number Generator creates also a completely random set of numbers and/or letters for each game.
Where to Buy Island Wide
With the Agent Locator tool find around the Island, places where you can play our games.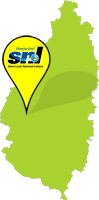 LATEST NEWS
We Are Ready To Serve You!

Hi Players

You can now purchase your favorite lottery games. We resumed operations on Monday May 18th with two draws: The morning draw at 9:30 am and midday at 1:30 pm, this format will continue into Tuesday May 19th.

On Wednesday May 20th and continuing there will be three draws; 9:30am, 1:30pm & the evening draw at 7:00pm, draw closure for the 7:00pm draw will be at 6:55pm. This new time for the evening draw takes into consideration the established National curfew.

Super 6 remains unavailable for ticket sales and redemptions until such time as the rest of the Islands are fully operational.

We will continue to provide updates via our social media platforms and during our live draws with all new information.

Remember to keep yourself and your family safe.


Happy FRIDAY!!
Good day SNL Family,

Please be advised that we continue to be closed due to the pandemic. We want to ensure you that as soon as we are able to we will honor all your winning tickets.

We want to encourage you to keep yourself and your family safe. Ensure you follow all the safety protocols such as washing your hands, keep your 6 ft distance, staying home if you are ill and wearing a mash every time you venture out.

We look forward to serving a healthy YOU soon.



Stay safe.