No Special Number?
All draw games carry a QUICK PICK option which is a random selection of numbers by the terminal.
The SNL Random Number Generator creates also a completely random set of numbers and/or letters for each game.
Where to Buy Island Wide
With the Agent Locator tool find around the Island, places where you can play our games.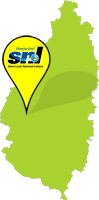 LATEST NEWS
What's Your Game?
With so many exciting games to choose from, tell us, what's your game?

Recently we launched Pick 2 with a Multiplier option which multiplies your Pick 2 winnings by 2X 3X or 5X, have you given it a try?

Big 4 players are spot on with number selections lately, we have had such huge payouts and last evening was no exception with a payout of $40, 600 on the numbers 6-0-0-7.

Power play's top prize is now $57, 800 for this Saturday's draw, give it a shot, not a bad sum to win for $2.

Super 6 of course is the most sought after, understandably so, with a Jackpot of $310, 600 up for grabs tomorrow evening who wouldn't take a chance.

Lucky 3 says it all, with a selection of three lucky numbers at a base bet of $1 , soooo easy.

So, tell us, what's your game?



Please acknowledge all safety protocols when purchasing tickets at any of our lottery agents and at our retail offices at Gablewoods Mall and Coral street.



Play safe, stay safe.


Who Wants To Be a Millionaire?


Get Up, Get Going, buy your Super 6 Tickets for your chance to win all that CASH this evening. Afterall there's a BIGGER Jackpot with plenty chances to WIN!




Play Smart, Stay Safe!


It's FRIDAY!!!
Not just any Friday....
It's a SUPER 6 Friday!

Today is the last Friday of the month so whats your excuse for not purchasing a SUPER 6 ticket?

$3 can make you $864,700 richer tonight!
So what are YOU waiting for?

Go Get your tickets Players

Good Luck ; )


Hey You, Yes, YOU!!
-Are you taking a chance this evening at winning Six Hundred and Fifty Nine Thousand, Six Hundred Dollars? ($659, 600)

-Did you know that you can review the most frequent numbers and the top five Super 6 numbers on our website?


-Are you aware that under the GAMES tab on the website there is a random number generator which can help you choose your winning numbers?



Good luck this evening and stay safe.


Three Dollars + Six Numbers + $593, 900 = YOUUUU!!!!


Simple, Simple, Simple!!!


All it takes is $3 and your chosen six numbers (or quick pick) for a chance to win almost SIX HUNDRED THOUSAND DOLLARS!

That's over HALF A MILLION DOLLARS up for grabs today.


Stay Safe Gamers!



Good Luck:)


Wow!!! What Ah JACKPOT!!

Think about it, think about how winning this huge amount of money would impact you on Tuesday. With almost Half a Million in your hands I am sure you can think of many ways.


$481, 700 is the new Super 6 Jackpot for Tuesday's Draw.



Play safe, stay safe...


Super 6 Friday!
Happy Friday!




You can't miss out on this jackpot TODAY!


434,500 reasons why you can't afford to miss this!



Get your tickets NOW!


Happy Monday!
Hey Players,


Big 4 morning draw had a big hit with 5-3-5-5 having paid out $20,900!! How did you play?


Remember you can Power your play TODAY with $21,600.


Power Play! Because you can!



Wonderful Monday to you all:)