No Special Number?
All draw games carry a QUICK PICK option which is a random selection of numbers by the terminal.
The SNL Random Number Generator creates also a completely random set of numbers and/or letters for each game.
Where to Buy Island Wide
With the Agent Locator tool find around the Island, places where you can play our games.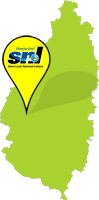 PROMOTION
Win up to $80,000 in cash prizes in our Match N Win Lucky 3 promotion! Simply spend $10 or more on Lucky 3 receive a voucher with a number sequence, match your sequence to the winning combination "2019" in that exact order, fill in your name and number on the voucher and place in the second chance boxes island wide for a chance at $20,000 cash!
In addition, receive the numbers "11 or 17" and win $500 cash instantly! Your voucher will read You Have Won! With Lucky 3 it's that easy!
The promotion runs from March 29th till May 10th 2019. Redemptions will remain open till May 24th 2019. All cash prizes of $500 can ONLY be redeemed at the office in Gable woods Mall.