No Special Number?
All draw games carry a QUICK PICK option which is a random selection of numbers by the terminal.
The SNL Random Number Generator creates also a completely random set of numbers and/or letters for each game.
Where to Buy Island Wide
With the Agent Locator tool find around the Island, places where you can play our games.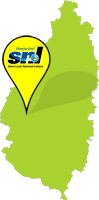 PROMOTION
Win $20,000, $30,000 and $50,000 in the Super Summer Splatter Promotion!!
Dive into your summer with The St. Lucia National Lottery as we offer you our new and latest promotion Super Summer Splatter. This promotion caters to both Big 4 and Lucky 3 players alike and promises to be nothing short of fun and exciting for all. Gamers will have the opportunity to win over $100,000 in cash. As customary, this promotion will run for six (6) weeks starting July 5th till August 16th 2019.
With every spend of $10 or more on Big 4 or Lucky 3, gamers may receive a voucher with a letter combination. Receive the letter combination SSS enter your name, number and address on the voucher and place in the second chance boxes island wide for a chance to enter our final draw to win $20,000, $30,000 and $50,000 in cash prizes. In addition, gamers who receive the word SUPER or SUMMER will get the chance to catch up to $30,000 from our cash machine. Six (6) gamers will enter the cash machine each and every Friday to grab for cash.
All Super and Summer tickets should be redeemed only at the Administrative Office in Gable Woods Mall Sunny Acres. Final draw will take place during the week of August 30th 2019. The St. Lucia National Lottery encourages gamers to visit our fb page StLuciaNationalLottery for more info on all promotions and winners photos. Redemptions will remain open until August 30th 2019.