No Special Number?
All draw games carry a QUICK PICK option which is a random selection of numbers by the terminal.
The SNL Random Number Generator creates also a completely random set of numbers and/or letters for each game.
Where to Buy Island Wide
With the Agent Locator tool find around the Island, places where you can play our games.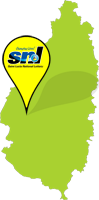 HELP & FAQ
Winner and Know
Show Me
Help Me
I'm a Winner! Now what
Congratulations on your winnings. We hope that this encourages you to play more so you can win more. If you have won an amount below $999 you can collect your prize at your seller. If you have won $1000 or more you must collect your prize at the main lottery office at Gable Woods Mall. If you have any questions before collection please feel free to call us between the hours of 8:00am and 4:30pm.
I'm a Retailer or Want to be One
Thank you for expressing interest in becoming one of our lottery agents. Please through our CONTACT US page provide the following information listed below and we will contact you.
Your full name an contact information;
Business location;
Type of business owned or operated;
Business's name;
Time owning or operateing the business;
Closer lottery agents in your area and name of the agents;
Brief explanation why do you want to become a lottery agent;
If you made a request to become an agent in the past, what response did you receive?
How can I obtain historical information on draw results?
There is a link PREVIOUS DRAWS on the main menu of each page that can lead you to pages that have historical information on the draws, viz.: Previous Draw Results and Frequencies of Numbers.
How does the lottery ensure that the draw is fair?
All draws are supervised by independent auditors who implement certain procedures run a series of checks to ensure that the integrity and fairness of the games are beyond question.
Can the draw numbers be determined prior to the draw?
No. The machines used for the draws are not computerized and have no memory and they allow all the balls to circulate freely and evenly, therefore the numbers which pop-up are randomly selected.
What is the purpose of the website?
The Website has been created to provide information about the operations of the Lottery, Draw information, Jackpot levels, Winners, news and press releases, donations made by the Lottery to Youth and sports organizations and to communicate with Lottery patrons.
Are the jackpots tax free?
Jackpots won by players are not taxed.
Show Me Winning Numbers
Our website provides easy access to current and past draw numbers and games. On the HOME page and on each game page, visitors can find the latest draw and its Jackpot.
The winning numbers are aired live on Helen Television Station at 1:30pm Mondays to Saturdays and on Helen FM radio. The evening draws starts at 9pm also Mondays to Saturdays. We make it convenient for our readers by inserting the winning numbers in the weekend Voice Newspaper and through our Agents Island wide.
Show Me How to Claim Prizes
Prizes amount below $999 can be collected at the place of purchase. Prizes amount equal or in excess of $1000 must be collect at the main lottery office at Gable Woods Mall, Sunny Acres, Castries with a valid picture ID. If you have any questions before collection please feel free to call us between the hours of 8:00am and 4:30pm.
Show Me Where the Money Goes
Every year, part of the profits of the National Lottery will be set aside specifically for granting financial assistance in promoting youth and sports development in St. Lucia. Support may be provided for the following activities or projects:
Establishment and maintenance of sporting and youth facilities.
Regional and International sporting and youth related engagements.
Local sporting events and youth programmes.
Training, coaching, seminars, and workshops.
Provision of equipment for sporting and youth activities.
Community projects undertaken by Youth and Sport organizations.
Show Me What's New On the Site
The website has recently been reconstructed to allow you the player more interaction and more information. We have customized it with you in mind; we understand how much emphasis there is on choosing the right numbers hence the inclusion of the Random Number Generator. The inclusion of articles is to keep you updated on what's happening with the lottery. We intend to keep you update on any new events, winners, photo updates, promotions, campaigns, new games, after all you are our customers and we value your business. We would also like to hear from you so please leave your comments and suggestions and we will be happy to respond and keep in touch. You can follow us on YouTube and Flickr. Watch our draws, promotions, winners and new activities on YouTube and Facebook. Don't forget to tag us and let us know what you think. Your feedback is valuable to us, so please let us know. We intend to keep in touch with you. Join our winners circle and let us know how the lottery has changed your lives, we know that every winning no matter how small makes a difference. We would love to hear about it so join our winners circle and be the first to know about new promotions, projects, games and overall news. Did you notice our updated site? Tell us what you think. Leave your comments on our social network right there through our website. We will have web promotions where you will get an opportunity to win even more, we encourage you to take some time whilst on the site to learn about our promotions, you never know, you may be a winner of a free winning ticket, or a trip or some other surprise we may have in store for you.
Show Me Gallery of Dreams
Follow us in our Youtube, Flickr and Facebook accounts where you can find pictures, videos and media productions of the delivery ceremony of the winner prizes and other activities.
Help Me Find More Ways to Buy
We pride ourselves in making available to you our players, all our games island wide. From Gros-Islet to Vieux-Fort. In our quest to do so, we select locations that are easily accessible and can showcase all our games because convenience is one of our main focuses. The link AGENT on the main menu will guide you to our agent location tool; remember you don t have to miss your lucky numbers just because you re on the move. You also have the option of buying now for later. Spend some time on the game links to read on the many play options for each game.
Help Me Pick a Game
If you fall into the "I want to win big every time", category then I suggest SUPER 6. This is the Jackpot game which offers cash above Two Hundred Thousand Dollars, that's the starting jackpot where you can win up to Four Hundred Thousand Dollars on Tuesdays and Fridays. SUPER 6 is played amongst the Windward Islands of St. Lucia, Dominica, Grenada and St. Vincent.
Are you always "feeling Lucky", guess what? We have the perfect game for you; it's called LUCKY 3, sounds easy right? This is the one game where you have several play options. Choose three numbers and play them straight, mix, front pair, back pair, split, backup and increase your chances of winning twice per day six days per week and you can bet any amount you want. It's that easy!!!
Win some lunch time cash in a flash with DOUBLE DAILY GRAND, Two Thousand Dollars every lunch time six days a week. It's like Every Day is Payday with this game and it only cost $2.00.
If you have the power to play then use it on POWER PLAY , just because you can! This game allows you to choose four numbers, a free ticket letter and, you won't believe this, a power pick number which increases your chances of winning. Now that's Power, all in one game. Aired on Wednesdays and Saturdays at 9pm so you get the in between, end of week, urge to take a chance. We all know by Wednesday we're looking forward to Friday and by Friday we happy because Saturday is right around the corner. Make Wednesday and Saturdays your Power Days.
TIC TAC TOE, three in a row. You will love this game if you love fun, excitement and a playful experience. Match three numbers straight, vertical or horizontal and win, the more you bet the more you win. Line up to win with TIC TAC TOE Mondays to Saturdays at 9am.
SCRATCH $2, $3 or $5 and win up to $50, 000. No, it's not at typo; you can actually win $50, 000 by playing a $5 instant ticket. I love it when people scratch and win; it brings to reality the chance aspect of playing and not to mention the "Changing Lives" reality. Can you imagine buying a $20 Instant ticket and winning $15, 000? It happens and it can happen to you. When you're on the go and don't have time to wait to win, our scratch tickets lets you know immediately how much you have won. We think of all player types when we develop games, we create opportunities, bring dreams to reality and we most importantly create life changing moments.
BIG 4 is an exciting new addition to SNL s game portfolio. It is played six days a week Mondays to Saturdays. Simply choose four digits from 0-0-0-0 to 9-9-9-9, select the amount you want to bet and choose the play method from the option available. This Four Digit game brings greater rewards with as little as $1. If your numbers match the winning numbers called in the exact order you win $5,000. Yes you read right, $5,000.
Help Me Play Responsibly
The SNL games are designed to be fun and a low-cost form of entertainment. It is important that you play them responsibly. With that in mind we offer you the following tips to keep the enjoyment in our games
Play for fun and entertainment.
Only spend what you can afford to lose.
Use your entertainment budget to play, not money needed for daily living expenses.
Set a spending limit. Once you reach your limit, stop playing.
Set a time limit. Once you reach your limit, stop playing.
Understand that winning and losing are both a part of gambling.
Never borrow money to gamble.
Never gamble to win back losses.
Don't let gambling interfere with family, friends, or work.
Don't use gambling as a way to cope with emotional or physical pain.
Know the warning signs of gambling problem.
Help Me Contact the Lottery
We like to hear from you. Following the link CONTACT US you will find addresses, email and telephone numbers to contact our office. We also provide a FEEDBACK form where you can contact us in a fast and secure way.