No Special Number?
All draw games carry a QUICK PICK option which is a random selection of numbers by the terminal.
The SNL Random Number Generator creates also a completely random set of numbers and/or letters for each game.
Where to Buy Island Wide
With the Agent Locator tool find around the Island, places where you can play our games.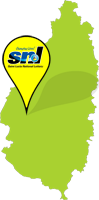 This product is an instant gratification game printed on the Lottery terminal. These games offer players the chance to win prizes without waiting for a lottery draw. There is no waiting, no guessing, no draws!
How To Play
INSTACASH games print on-demand from a lottery terminal and cannot be canceled. These games are easy to play and offer the chance to win instantly! Everything you need to play is on each ticket, with instructions and prizes appearing right on the ticket.
The product comes in a variety of games and price points starting as low as $2, and all available to the player at any given time. Each game has its own prizes and playstyles range from familiar quick wins such as a Key Number Match, Symbols Match, Beat the Dealer, Tic Tac Toe, Multipliers and Casino type games.
Prizes will be awarded as follows:
If played, the prize of the game is clearly stated on each ticket. Each game has prizes that vary from the price of the ticket to the respective top prize.
Buy and cash your tickets at any lottery agent. All Online Lottery Agents are authorized to pay prizes up to $999.
Prizes of $1000 and more must be claimed at the Lottery Administrative Office, Gable woods Mall, Sunny Acres, Castries with a valid picture ID.
Prizes must be claimed within 90 days of the closing of the game. Agents are notified when games are closed.