No Special Number?
All draw games carry a QUICK PICK option which is a random selection of numbers by the terminal.
The SNL Random Number Generator creates also a completely random set of numbers and/or letters for each game.
Where to Buy Island Wide
With the Agent Locator tool find around the Island, places where you can play our games.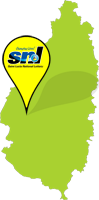 LATEST NEWS
Take Our Super 6 Survey!
Hey you,


We would like your feedback.

Follow the link below and take our short survey.

https://www.surveymonkey.com/r/LTGT6XB_STL


Your views matter to us and we would like to hear from you!


Have a good day!


620,000 Reasons to PLAY Super 6 TODAY!
Hey You,

$620,000 could be all yours TODAY!

Buy a house, clear your debt, take a vacation, or go get a degree, which ever you decide ...


It's not far away! Only 1 Super 6 ticket gets you in the draw.

Sales close at 11:45am and the draw is at 1:30pm.

Visit an agent near you or buy your tickets online at play.stlucialotto.com. No matter which way you choose, you have to be in it to win it!

$620,000 is waiting just for you!

Good Luck:)




Over Half A Million Jackpot


Just dropping by to remind you that the Super 6 jackpot is over half a million dollars!


That's right $510,000 could be yours on Friday!


Don't wait for the last minute to get your tickets, Start today!


More jackpots and certainly more chances to win with us today and every day!


Super 6 is on Friday, Miss it and blame YOU!


Happy Wednesday!


$290,000 Is a BIG WIN!
Hey You,

Get ahead of the game TODAY and get those Super 6 tickets!


That's 290,000 reasons why you should buy a ticket or two today! Only $3 can land you a jackpot of $290,000!


Visit your favorite agent or log on to www.play.stlucia.com and play NOW!



Draw takes place on Tuesday at 1:30pm. Sales close at 11:45am. You can't afford to miss out.

Good Luck!