No Special Number?
All draw games carry a QUICK PICK option which is a random selection of numbers by the terminal.
The SNL Random Number Generator creates also a completely random set of numbers and/or letters for each game.
Where to Buy Island Wide
With the Agent Locator tool find around the Island, places where you can play our games.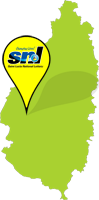 LATEST NEWS
WIN WITH WORDS!!


Tell your friends that we are at it again! Starting this Friday 27th, you have more chances to win every day for six weeks with this super exciting promotion 'Multiply to Win' which promises lots of INSTANT CASH!

To qualify spend $3 on Big 4 and $3 on Multi-x, that's it. You will receive a voucher with various words, each word carries a CASH PRIZE! You will receive words such as; Bananas, Vendor's Arkade, Sulphur Springs, Pigeon Island and lots more. Are you excited yet?

Promotion starts on Friday August 27th and will continue for six weeks. Multiply to Win with big 4 and Multi-X.


Bet on Fridays, Spin on Saturdays
Hey Player,

Bet on Fridays, Spin on Saturdays is on TODAY only at the Retail Store on Coral Street.

Spend $3 on Big 4 and $3 on Multi X, fill out your name and number on the voucher and place in our second chance box.

Then, make sure your phone is close by, because we will be calling up the winners to come spin the wheel on Saturday!

Lots of prizes such as cash, groceries, smartphone, school supplies still remain on the wheel so don't miss out!

Be sure to ensure you follow the safety protocols.

Good Luck:)





SUPER NEWS!
Hello Player,

Did you know that Super 6 alone rewarded 5 winners thus far for the year? On that note, be sure to check out your Super 6 tickets for last Friday's draw as the $230,000 jackpot has been won by a lucky Saint Lucian. Ticket was purchased at Agardianz in Agard.

It's the last week to get cash back on your non winning Fast $1000, Fast $5000 and Fast $10,000 tickets. Simply ask the agent to redeem your non winning ticket for you.

Get your tickets for your chance to win every day with us.

Good Luck:)







Last Chance to WIN Grocery Vouchers!
Hey you,

Register for online playing TODAY for you chance to win $300 worth of grocery vouchers.

Here's how to participate:

Register at play.stlucialotto.com

Send us your verification email at [email protected]

Top up your online account with $10

And you are in for a chance to WIN!

Last chance to qualify!

Promo ends July 5th 2021. New sign ups ONLY.