No Special Number?
All draw games carry a QUICK PICK option which is a random selection of numbers by the terminal.
The SNL Random Number Generator creates also a completely random set of numbers and/or letters for each game.
Where to Buy Island Wide
With the Agent Locator tool find around the Island, places where you can play our games.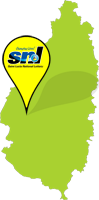 LATEST NEWS
$425,000 is the Super 6 Jackpot for the Win

Top of the morning to YOU.

Just reminding you that $425,000 is the Super 6 jackpot for the taking TODAY!

You can't miss this pay day!

Visit play.stlucialotto.com or an agent near you to get those tickets!

Draw closes at 11:45am! Not much time remaining, so don't be caught without your tickets!

Good Luck:)


Happy $410,000 Super 6 Tuesday!
You know what day it is!


The day when your wishes can come true with just one purchase of a Super 6 ticket!

Imagine all the things you could do with $410,000!


Now go online or visit your nearest agent and get your Super 6 tickets.

Sales close at 11:45am and the draw is at 1:30pm

Don't stick! Get your tickets NOW!


Good Luck:)


Super 6 Update
Happy Friday!

Please be reminded that the Super 6 draw scheduled for tomorrow Friday 4th November 2022 is rescheduled to Saturday 5th November 2022 due to Dominica's Community Day of Service holiday.

But don't wait last minute and miss out on this big $300,000 jackpot!

Come Saturday it's all about winning big on Power Play and Super 6, so hold on to those tickets and get ready!

It's going to be BIG!

Good Luck:)