No Special Number?
All draw games carry a QUICK PICK option which is a random selection of numbers by the terminal.
The SNL Random Number Generator creates also a completely random set of numbers and/or letters for each game.
Where to Buy Island Wide
With the Agent Locator tool find around the Island, places where you can play our games.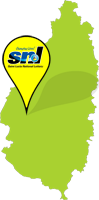 PROMOTION
Beat the Clock, Shop Till You Drop.
Have you heard of our latest promotion, 'Beat the clock, shop till you drop'? You get a chance to win a $1,200 supermarket shopping spree when you spend $6 or more on Big 4, from November 18th till December 31st.
Your tickets will indicate if you are a winner with the letters "SSS" and the amount $1,200. Please ensure that you take a close look at your tickets after purchase, because you could be a WINNER!
Players who receive "SSS" on their tickets should come to our Main Office at Gable Woods Mall for further instructions.
We promise that it will be an exciting experience especially knowing that we have a couple surprises for you before you DASH through the aisles. So, what will you dash for? Ham, Turkey, Rum, Flour for that black cake or a bit of it all?
What ever it is you decide on, you have 60 seconds to grab as much as you can because you have to BEAT THE CLOCK .
Winners please visit our main office as soon as you receive your winning ticket!